Thanks McCormick Grill Mates!
Its been a busy summer here on the farm, but we recently took time out to host a get-together showcasing McCormick Grill Mates. We love to entertain, and we love to grill out, so hosting this party was perfect. As a member of
Crowdtap
and a McCormick Grill Ambassador, I received a party pack of
McCormick Grill Mates
products to sample with my guests. The party pack included Grill Mates Montreal Steak Seasoning, Molasses Bacon Seasoning, Spiced Brandy & Herb Marinade, Slow & Low Memphis Pit BBQ Rub, and Brown Sugar Bourbon BBQ Sauce, and an official McCormick Grill Mates chef apron.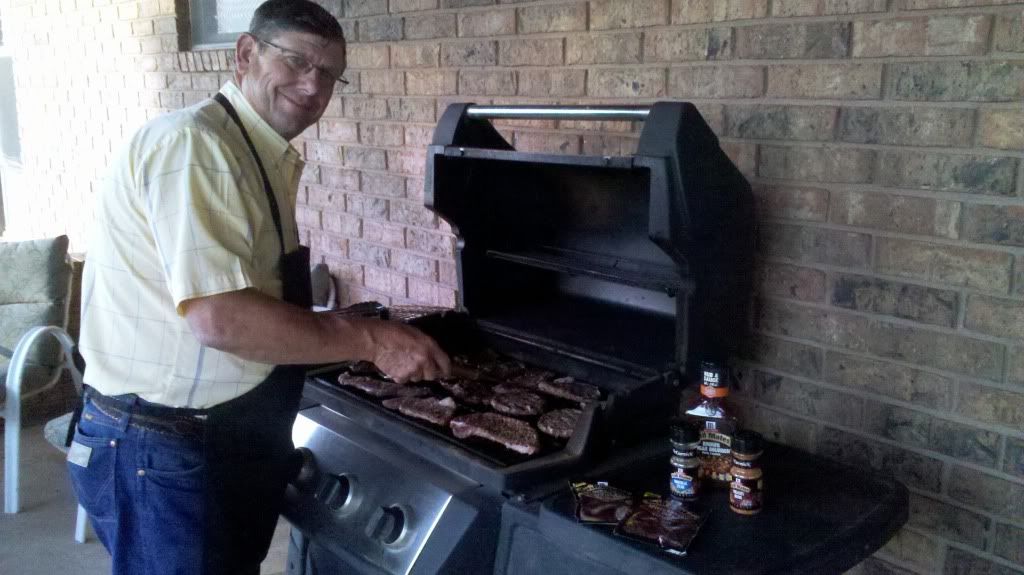 Our Grill Master!
Hubby is the "grill master" at our house, and he enjoyed experimenting with the seasonings as he cooked steaks for our 10 guests and the two of us. Although we would have loved to eat outside, the outdoor temperature was a blazing 105-107 with wind gusts of 25-30mph. (This is normal for Oklahoma in June and July.) So, we grilled outside, and ate inside.
Time to eat!
Getting ready to dig in!
Our menu consisted of grilled steaks, baked potatoes, baked beans, fresh fried okra and a cool tossed salad. The steaks were fantastic! We seasoned them with the various products we received as part of the McCormick Grill Mates package. Some of the guests even seasoned their baked potatoes with the Montreal Steak seasoning or the Molasses Bacon seasoning. The big hit of the seasonings was the Brown Sugar Bourbon BBQ sauce. I was really wanting to save it to use on ribs later on, but someone found it, and tried it, and pretty soon, everyone was giving it a try.
As we discussed the seasonings, we agreed that the Molasses Bacon was sweet and smoky, but surprised that it had a little bit of "fire" in the flavor. None of us expected that - rather we expected a sweet taste, but we still liked the seasoning.
Montreal Steak seasoning is a family favorite at our house, and we were all familiar with its flavor of pepper, garlic and spice.
I've always said that a good steak needs no sauce to hide its flavor, and a bad steak needs sauce to compensate for lack of flavor. Well, by the time our dinner was over, the whole bottle of
Brown Sugar Bourbon sauce
was gone! The party-people enjoyed dipping steak in the sauce and now my mission is to find a store that carries this stuff and stock up!(Hmm...does that sound as though our steaks lacked flavor? NO! They were delicious, but everyone was anxious to try the new BBQ sauce, and everyone agreed it was even better than the "local favorite" which is manufactured in our home town.)
I also received a packet of Memphis Pit BBQ Rub and a packet of Spiced Brandy & Herb Marinade. When we fire up the smoker in a few days, we'll use the rub on a rack of ribs, and next time we grill chicken, we'll use the marinade. I bet they are every bit as good as the other Grill Mates products we used for this dinner.
Thank you to Crowdtap and McCormick's for choosing me to host a party - it was a great experience and I can't wait for the next hosting opportunity to come along!
I am a member of Crowdtap and McCormick Grill Ambassadors. I received products and promotional items in in return for hosting this event in my home. As always, the opinions shared are my own.